Watch for details of our
20th Annual Lebanese-American Food Festival Aug 13-15, 2021
__________________________________________________________________________________________
A Heartfelt Thank You to all of Northeastern PA who supported our
2020 Summer Food Festival.
We hope you enjoyed the food this year.
We certainly enjoyed seeing all again.  We think of you as family and you are very dear to us. Please pray for us as we shall remember you in our thoughts and prayers.
A blessed rest of 2020.  God willing we will see you again next year!
_____________________________________________________________________
Our 2019 Festival.
Thank you to everyone who participated, sponsored, volunteered, ate, advertised, shared, etc. at our event.  More pictures coming.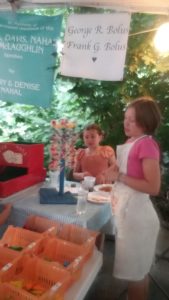 __________________________________________________________________________________
2018 Festival
It was a pleasure to welcome all to our 17th annual Food Festival August 10-11-12, 2018. Thank you  for your support in any way: sponsorships, donations, food donations and baked goods, volunteering for multiple tasks before, during and after, cleaning up, basket donations, smiling. Thanks to our residential neighbors to withstood the inconvenience to their homes & vehicles during the event.

If you missed our food fest and would like to make a donation- see our donate button on the tab marked "donate/amazon smile"
Preparing for and completing this event is a tall order for our very small parish community but we are up to the task. We do this through the wonderful foods prepared by the men,women & children of our parish & their friends and by the hospitality that we offer to our guests. We are proud to share our Melkite Greek-Catholic religious heritage &  All-American Northeast PA Picnic favorites & Lebanese foods with all who are interested.  Some of our families descend from the original founders of our church over 100 years ago (see the 100 year tab) while many have joined our parish to experience the rich traditions of the Byzantine Divine Liturgy and Services. We are from all ethnic backgrounds and locations in Scranton & other states and found that we can continue the work of the ancestors of our parish through worship and recipes passed down through the generations.
Our Food Festival helps us raise needed funds for the church, but more importantly, it brings friends and strangers together to share a meal and offers our parishioners a chance to serve the Lord through service to our neighbor. It is our hope that we grow in the love of Christ our God through our sacrifice and hard work, especially at the festival.