Saint Joseph Melkite Greek-Catholic Church, Scranton, PA,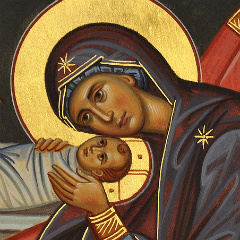 is a local parish of the    Melkite Eparchy of Newton.
CELEBRATING 120 YEARS IN SCRANTON in 2017.    We are one of the three oldest churches in our Eparchy .
Founded by Lebanese immigrants in the late 1890s, we are a faith community that has withstood many trials and tribulations. Today we continue to witness to the Gospel of Our Lord God and Savior Jesus Christ throughout South-Central New York State and Eastern Pennsylvania: From Binghamton and Albany to Philadelphia, concentrated in the Lackawanna Valley.
Patriarchate of Antioch. Catholic but not Roman, Byzantine in Tradition, brothers and sisters of the Orthodox East.
Visit the Eparchy website at    www.Melkite.org for more information!
 *************************************************************************************************
VISIT our new DONATE page through paypal or instructions for AMAZON SMILE.
PARISH MEETING FOR ENTIRE PARISH WILL BE HELD SUNDAY JAN 21 AFTER THE DIVINE LITURGY. DISCUSSION ON ANY TOPIC YOU WANT TO BE INFORMED ABOUT, MOSTLY THE 2017 FOOD FEST RESULTS & COMMENTS.  This was originally scheduled for Jan, 14
FOLLOWED BY THE PARISH Advisory COUNCIL MEETING
---
LADIES AFTERNOON OF RECONCILIATION:  EACH FIRST SATURDAY OF THE MONTH AT 1PM UNTIL 3PM.
PRAYER IS THE TOPIC OF THIS YEAR'S PRESENTATION BY FR. CHRISTOPHER.  THE READINGS & INFORMATION ARE BELOW.
See our facebook page for photos & current events
Saint Joseph Melkite Greek-Catholic Church, Scranton
For current events contact alternate email address at     melkite.scranton@gmail.com
Church email address is    stjosephscranton@gmail.com
See our "ABOUT" tab for: The First 100 years of St. Joseph Church used for our Centennial Celebration Oct. 1997.